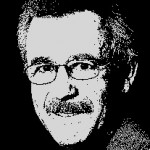 I have had long conversations with Eddie Wilson this week; he is the media spokesman for FBC Hammond. As I said to him, he has been put on the front lines by Schaap armed with a pea shooter while Schaap hides in his office. Wilson does mean well, and I sense that he is a good man, even though he has not read "Fundamental Seduction," "The Wizard of God," or Sumner's article, "The Saddest Story We Have Ever Told."  Wilson knows nothing of the legendary mountains of abuse in the church's past. If he stays, he will be tainted by Schaap's ambitions.
I sat in the family's kitchen after the young girl was molested in the church by deacon A.V. Ballenger, and I cried with them. I asked Wilson if Schaap in his "new day" had reached out to them to even try to say "I'm sorry" after having ruined their lives and condemned the father to raging alcoholism. I asked him how he would feel toward Schaap if it was his daughter. I asked him how it could be "a new day" at FBC with all of Hyles' old staff on the platform every Sunday after decades of rubber stamping Hyles' abuses, including the legendary philanderings of Hyles' son, Dave Hyles. He told me many of the problems were caused by members who "came to us with problems in their lives already." So I asked him about Joe Combs, their premier Bible teacher for many years now serving 175 years in a Tennessee prison for sexually abusing and torturing his adopted daughter. He had no answer.
I didn't have time to relate to him the the account of a funeral I attended.  It was was the funeral of a wonderful woman and mother of three whose cancer had come out of remission and overwhelmed her body in the aftermath of her tortuous dealings with the kidnapping and multiple rapes  of her eleven year old daughter by a  Hyles-Anderson  trained minister.  Wilson did say he would meet with Schaap on 4/16/11 and get back to me. He has thus far failed to do so.  Surprise, surprise . . .
Maybe it is a new day at FBC Hammond. Maybe new standards are in place. Maybe they really are buying background check forms in bulk. Until they step up and take responsibility for the thousands of families driven from their faith by the abuse and rotten example of this cultish organization, however, they will get no respect from me. I don't care care how many homeless people they feed or how many shelters they take over for the city of Hammond, or how many buses they fill up (as if anyone has ever believed those perpetually cooked numbers, a blatant and systematic fraud in which I once sadly had a hand) .
Schaap will make millions from selling his books to his followers, just like Hyles did, but he will still let the elderly teachers continue to work well into their 80's because they have no pensions.  Meanwhile, church staffers drive new cars, and 75 year old Bible teachers in their schools run paper routes in the shadow of their unaccredited and academically inbred (they hire almost exclusively their own graduates)  Bible college at 5:00 a.m. on sub-zero mornings, barely making it home with enough energy to be in their classrooms at 8:00 a.m..
All is not well in FBC paradise, however. I can't share the details yet, but there have been some raucous deacons meetings with some of the younger men speaking out against the cover-ups in the style of Vic Nischick before writing his book, "The Wizard of God," exposing the adultery of Jack Hyles. The older deacons are still trying to shout down the whistleblowers, but this time it is not working quite so well. Nevertheless, the church is still certainly adept at the political maneuverings that serve to pressure out anyone who does not toe the church party line. Like all personality cults, they do not tolerate dissent.
So the abuse, chest puffing and misogyny of FBC Hammond will continue. (Schaap seems to have bought into the old Fundamentalist mantra:  "If you say it loud enough, it must be so.")  One young woman we counseled after the church literally sanctioned her ex-husband's abuse before she dumped him aptly called the church "a Boy's Club."  Their response was as always, "What do you suppose you did to make your husband act that way?"
Schaap and I were close friends and business partners for years. I have been in his home and he has been in ours. My wife and I were the first couple he married in 1985. I believe he could have a great ministry, a great life, and enjoy great respect. He has enormous talent and he is a smart individual. But he first has to cross the narrow and imposing rope bridge over the raging rapids of accountability and then lead his church to take ownership of their past. So far, he has not had the courage to take the first step. I do not believe that this is something he will ever do. He is still bent instead on trying to control the flow of water under that bridge, and that has never worked for anyone. That is apparently still the modus operandi at First Baptist Church of Hammond. It is not, however, the way of Jesus Christ.