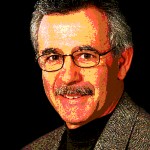 My name is Jerry Kaifetz.   I was born in Paris France right after WW II.  My father was a G.I. whose unit received two Bronze Stars, and my mother was the first war bride and a passenger on the first passenger transatlantic flight.
I grew up in France as well as the U.S., attending public schools in Plattsburgh N.Y. and also Paris.  My family had a small villa on the French Riviera where I spent many summers.  I returned to France as a professional skier in my late twenties.
I have been a Christian since 1983.  Just a few months after God's grace and mercy opened the door to my salvation at a little  Baptist church outside of San Diego, He also called me to proclaim the unsearchable riches of the Word of God.
Within a few short months of having placed my personal faith in Jesus Christ as the atonement for my sins,  I sold or gave away all that I had and went off to Bible college.  The more I learned, the more I realized I didn't know and the more I wanted to learn.  That process  culminated in a B.S. in Pastoral Theology and a Th.M. in Pastoral theology, as well as a Ph.D. in philosophy in religion.
During these years, a host of other events and blessings flowed abundantly into my life.  A small truck washing business that I started in Bible college soon grew.  Before long I had come up with some chemical formulas for products used in that trade.    Now with over two dozen products developed, the truck washing business has given way to a successful chemical company, Omega Chemical, which sells these products to the truck washing industry nationwide. ( omegachemical.com.)  I have had the good fortune to be  twice named to Who's Who publications, including Who's Who Among Leading American Business Executives, a testimony to God's continued hand of blessing and guidance throughout the years.
Parallel to the business activities that have occupied my life has been a ongoing and heartfelt hunger and dedication to disseminate the great truths of God's Word through churches.  I have been an associate pastor and an interim pastor, as well as having spoken in many churches throughout the years.  Having come to Christ through the door-to-door outreach of a local church, I have always had a heart for fulfilling the Great Commission.   I  have  had the  great privilege  these  many  years  of  leading many  to  Christ   "from house to house,"in the great tradition of the early Church.  I was  the  recipient of  The Sword of the Lord Award For Evangelism in 1986.  I have taught hundreds of pastors on the subject of personal evangelism, differing from some the methods of some by placing strong and primary emphasis on the role of repentance and sensitivity to the leading of the Holy Spirt in making the best use of the many fields "white unto harvest" that surround  us all.
Before coming to Christ, my life was one that most people would find exciting, fast moving and  even glamorous.   Having lived all over the world,  and educated in  the capital of Western art and culture, as well as Ivy League schools in the U.S., God has enabled me to  bring to my ministry a meaningful and worthwhile perspective framed in a setting that never fails to hold people's attention.  My many years of international ski racing experience and sporting exploits around the world provide a richness of illustrative power that keeps the attention of young and old focused on my perpetual conclusion: the greatest excitement that the world has to offer pales in comparison to the deeper thrills and inner satisfaction of  truly giving one's heart to God and co-laboring with the Creator of the Universe in bringing people to the liberating truths of Jesus Christ.
I am the  author of World Class Truth, a book for Christian teenagers on my experiences as a professional skier and adventurer.   This book, first published in 1990, is an expression of Paul's great sentiment of Philippians 3:8: "Yea doubtless, I count all things but loss for the excellency of the knowledge of  Christ Jesus  my Lord, for whom I have suffered the loss of all things, and do count them but dung that I may win Christ."
World Class Truth is a journey into adventure, thrilling exploits and far away settings in which the reader comes to see plainly and in detail the very best that the world has to offer.  There is no doubt that the first thirty years of my life were experiences of privilege, glamor and exhilaration.  The purpose of the book is to provide an honest and sincere comparison: how in fact does the Christian life compare to the best the world has to offer?  Every honest young person who reads this book will come to the conclusion that the Apostle Paul did in Philippians 3:8.  Every parent, youth pastor and pastor will find great support in having those in their charge experience these adventurous accounts and Christ-honoring conclusions.
I have  also written a children's book called The Little Drop of Water Who Learned to Give Himself Away as well as many articles for Christian and secular publications.  I  have  been interviewed by the N.Y. Times, the Los Angeles Times, the Chicago Sun Times, CNN, CBN and a host of other media.
I have  taught for many years on Creation Science and the fallacies of Evolution.  I have taught my  26-week course on Creation Science with convincing results: the faith of believers is dramatically strengthened while the doubts of skeptics are persuasively  confronted.  It is unlikely that those believing in or compromising with evolutionary theory could emerge from this course without great doubts as to this deceptive and  faulty theory. I have been blessed in my Christian life to be able to use  an academic  background that includes training at the Institute For Creation Research, where my  Ph.D. thesis is now part of the graduate research library.    I owe a great deal to Dr. Henry Morris, who was a regular speaker in my home church and who greatly helped to undergird the foundation of my early Christian beliefs with sound science.
I am predominantly an  expository preacher with a biblically centered message and ministry.
The Kaifetz family includes my  wife Gwen, a former Christian school teacher and mother of our two grown  children, Michael and Elisa.  Both of our children were  home-schooled.
My  testimony has been shared with millions, often with copious blessings coming  upon us from the Holy Spirit.  Having been raised in the Jewish faith and come to Christ as an adult, this is a testimony that never fails to hold peoples' attention.  From the Red Sea to the French Riviera, to the top of mountains and the bottom of the world's oceans, my testimony  gives a dramatic evidence  as to the failure of the world's allure and excitement to compete with the riches of God's amazing grace and to the joys of a life genuinely lived for Jesus Christ.  You can hear my testimony on The Unshackled Radio Program where it was produced as a radio drama:
Jerry D. Kaifetz, Ph.D.