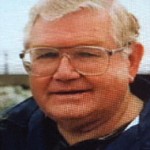 Pastor Phil Owens — Prospect Avenue Baptist Church, Santee, CA is a good example of an Independent Fundamental Baptist preacher who will crush anyone who gets in the way of his church agenda, position, or pastoral career. Here is an account of two elderly people whose lives have been destroyed by that ambition: his own mother and father. (His father, retired pastor Dorman Owens pictured here founded the church, worked for years with no salary, and pastored it for 38 years with growth to 450; the church under Phil Owens averages around 65 in attendance.)
*************************************
PASTOR PHIL OWENS BETRAYS A CONFIDENCE
by Pastor Dorman Owens (retired) January, 2015
In 1987 a man in our church attempted to burn down an abortion clinic. Because I visited him in jail I was charged with, "withholding evidence" from the government and "interfering with a government investigation". They sent me to prison for fourteen months. When I was released I was told that I could not longer own or possess a gun. It was legal for my wife but, not for me. Jean kept a gun for her protection in case of an invasion of our home.
In 2007 Jean developed Parkinson's disease and suffered from severe depression and anxiety. As a result she threatened suicide often. Because of this danger I hid Jean's gun from her. One day, while confiding with my son, Phil in his office;, I shared about her suffering and how I had to get rid of the gun because of the danger for her and that I would go to prison for two year if it was found in my possession.
In July, 2008, Phil expelled me from the church. In the process of getting a restraining order against me, he told them that I had an illegal gun in my possession.
A few days before this happened I went to his house to seek peace. He drove me away and called the Sheriff to evict me. Jean called Phil and told him to talk to me and make peace.
Phil said to her, "Momma, you don't understand. Daddy is going to jail." He had purposely made plans to put me in prison for two more years for having a gun I told him I was trying to get rid of. Do you think he gave a thought as to who would take care of his sick mother or the suffering we would both endure? Evidently, he did not care.
It has been 6 1/2 years since he expelled me and hew has never visited or called to check on us. He is "without natural affection". (11 Timothy 3:03)
How can a "Man of God" so abuse the Command to "Honor your father and mother"? Exodus 20:12, Deuteronomy 27:16 says "Cursed is the man who treats his father and mother with contempt! Is it possible for a saved man to commit such a crime? How can anyone support a pastor who would betray his Godly parents like this?
What Phil does not know is that we got rid of the gun many months before. The police and judge ask me for the gun three times, but it was gone.
How sad that any son would even think about trying to put his father in prison for 2 years. Only a wicked mind could do what Phil did. Remember that the next time you hear him preach the word of God. He is a blatant hypocrite. Ask his mother. She has suffered much because of his carnal life.
He loves his kids, but not his mom and Daddy. He loves his dog better than us.
Sorrowfully,
Pastor Dorman Owens